WinDeveloper's IMF Tune v3.0
---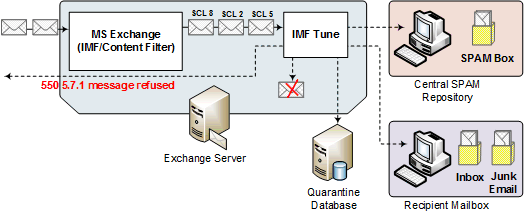 While reading fellow MVP Jim Mcbee's Blog, a post about WinDeveloper's IMF Tune v3.0 came to my attention.
Exchange 2003 SP2 Intelligent Message Filter (IMF) is a great add-on for Exchange, it can reduce spam dramatically. Unfortunately IMF is not very user friendly, neither provides a GUI to administer it.
IMF Tune v3.0 can help you to overcome these difficulties. Here's a list of the main features:
Granular Email Handling Configurations - Configure each SCL rating with a unique set of options.
Whitelisting - Scan IPs, senders, recipients, subjects, email headers and bodies to ensure legitimate emails are not classified as spam.
Blacklisting - Scan IPs, senders, recipients, subjects, email headers and bodies to eliminate spam that still manages to reach the inbox.
Keyword-to-SCL Mappings - Search for keywords within email headers to further control SCL ratings. On finding a match the current SCL can be incremented, decremented, or fixed to any SCL value.
Plug any Anti-Spam Filter into Exchange - Integrate anti-spam filters running on any platform, dedicated firewall appliance or external service provider.
SCL to Subject/Header Insertion - Expose SCL ratings to the end-recipients. Junk email may than be sorted by SCL enabling more effective verification.
Spam Rerouting to a Central Mailbox or Public Folder - Retain all emails within a single repository. Eliminates external archiving and enables access to filtered spam through Outlook.
Auto-Reply to Filtered Emails - Streamline the process of identifying false positives for emails most at risk of incorrect classification.
Attachment Stripping - Minimize resource wastage within archives and Junk Email folders.
Detailed Logging - Retain an index of processed emails and extract IPs, addresses and keywords for whitelisting/blacklisting.
Intuitive SCL Based User Interface - Visualize the configuration at a single glance. This is achieved through the use of different icons and SCL handling color coding.
SCL Threshold Fine Tuning - Categorize logs and archives by SCL to quickly analyze the impact of the current thresholds and adjust them as appropriate.
---